Located 77 km north of Cairns, 20 km north of Port Douglas, and approx 2 km from the tiny township of Mossman, Mossman Gorge is an easy drive from many major centres, with parking available once you arrive at the Centre. Or, if you prefer to leave your car behind, our shuttle service is an easy and convenient way to get here. Read on for driving directions and helpful tips to get to Mossman Gorge Centre.
Port Douglas to Mossman Gorge
The drive from Port Douglas to Mossman Gorge takes approximately 22 minutes and meanders through beautiful tropical scenery. Follow the Port Douglas Road out of Port Douglas, then turn onto the Cook Hwy towards Mossman, turn off at Johnston Rd and Mossman Gorge Rd to get to Mossman Gorge Centre.
Cairns to Mossman Gorge
To get to Mossman Gorge from Cairns self drive is a great option, since the Captain Cook Highway is part of the Great Tropical Drive and is one of the most famous drives in the Southern Hemisphere renowned for its stunning scenery as it winds along the coast of the tropical seaside rainforest. The drive takes approximately 1 hour and 15 minutes.
Organized tours and coach transfers depart Cairns daily. Enquire at your local Visitor Information Centre or Hotel Tour Desk for more details.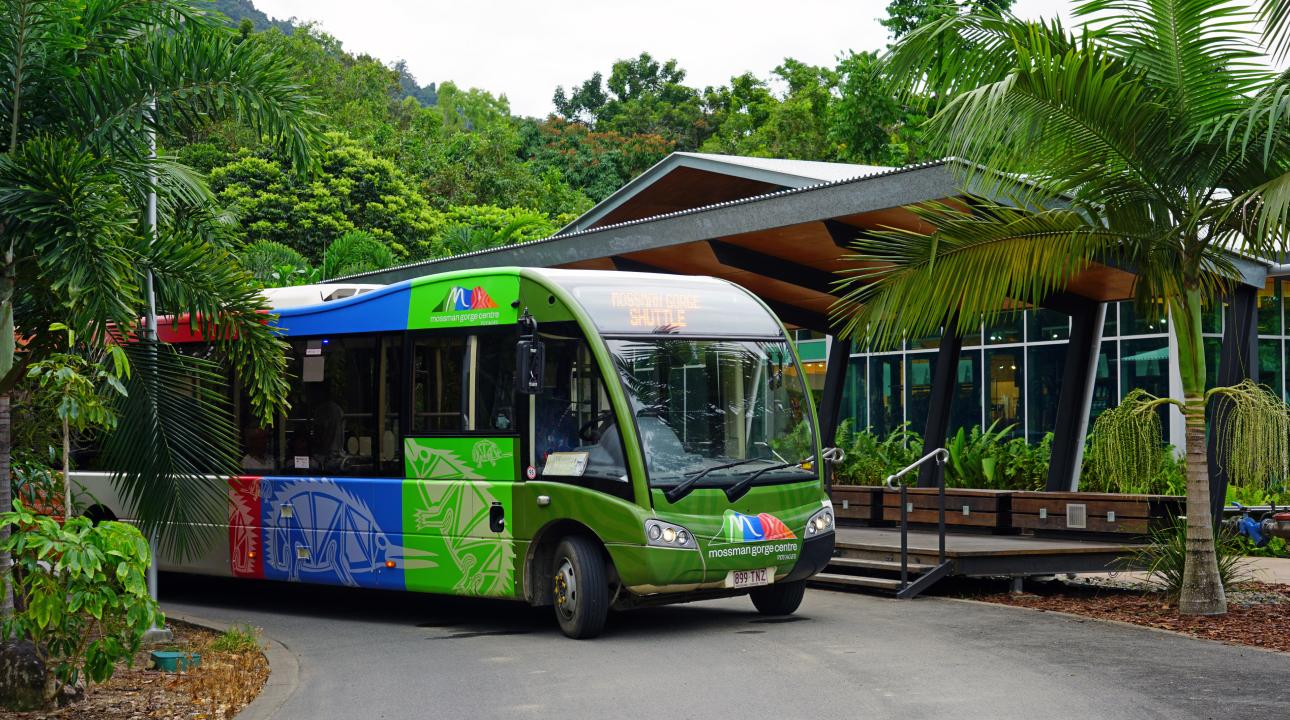 Shuttle Bus Service
Each day, a shuttle bus takes passengers from Mossman Gorge Centre to the heart of the Gorge. The shuttle departs every 15 minutes, between 8.00am and 6pm 7 days a week. Last bus out of the park is 5:30pm.
31 March 2022
| | |
| --- | --- |
| Adult | $13.05 |
| Child 5-15 years inclusive | $6.60 |
| Infant 0-4 years | Free |
| Family Pass - 2 Adults + 2 Children | $31.85 |
The shuttle bus ticket allows multiple trips from the Centre to the Gorge on day of purchase only. Please note: There's no footpath or pedestrian access from the car park to the Gorge. The road leading to the Gorge is narrow and dangerous. Please use the shuttle bus service, your safety is your responsibility.